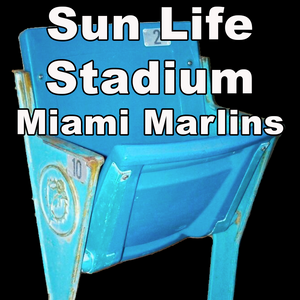 Sun Life Stadium (Miami Marlins)
Blanks are chunks of the Teal seats mixed with Miami Marlins colored resin.
Pen Blanks are a minimum of 3/4" x 3/4" 
Bottle Stopper and Ring blanks are 1-1/2" round
Full blocks are 6" x 5.25" and a minimum of 3/4" thick
Knife Scales are 1-3/8" x 5" x 3/8" minimum

All blanks will come with one COA per blank. COAs are 4" x 6" card stock with foil embossed COA seal. (Full Blocks come with 10 COAs.)
All blanks are cut as they are ordered.
---
Hard Rock Stadium is a multi-purpose stadium located in Miami Gardens, Florida, a city north of Miami. It is the home stadium of the Miami Dolphins of the National Football League (NFL). Hard Rock Stadium also plays host to the Miami Hurricanes football team. In addition, the facility hosts the Orange Bowl, an annual college football bowl game. It was the home to the Florida Marlins of Major League Baseball (MLB) from 1993 to 2011. From 2019, the stadium is home to the Miami Open tennis tournament, played in March.
The stadium has hosted six Super Bowls (XXIII, XXIX, XXXIII, XLI, XLIV, and LIV), the 2010 Pro Bowl,[9] two World Series (1997 and 2003), four BCS National Championship Games (2001, 2005, 2009, 2013), the second round of the 2009 World Baseball Classic, and WrestleMania XXVIII. The stadium hosted the College Football Playoff National Championship [10] in 2021, as well as has "agreed in principle" to host the Formula 1 Miami Grand Prix in 2021.
The facility opened in 1987 as Joe Robbie Stadium and has been known by a number of names since: "Pro Player Park", "Pro Player Stadium", "Dolphins Stadium", "Dolphin Stadium", "Land Shark Stadium", and "Sun Life Stadium". In August 2016, the team sold the naming rights to Hard Rock Cafe Inc. for $250 million over 18 years.
---
We Also Recommend