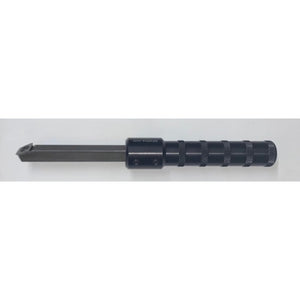 T. Shadow Negative Rake Scraper
Everyone agrees that the "Negative Rake" is the way to go with plastics, but the cutters are expensive and you can not sharpen them.
T. Shadow & Co. to the rescue.
Our new NRS tool bar will allow you to use conventional carbide cutters and enjoy the superior cutting action and finish of "Negative Rake".
You simply hold the tool square and level and the angle at the end of the bar does all the work.
Very easy to master.
The bar is made of the finest steel, black oxide treated and laser engraved.
The handles are made from aircraft quality aluminum, power coated and laser engraved.
Very comfortable in the hand and easy to use.