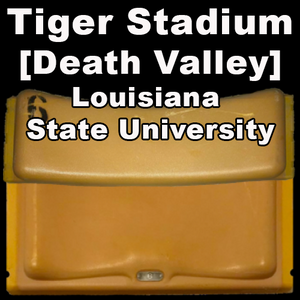 Tiger Stadium [Death Valley] (Louisiana State University Tigers)
Blanks are chunks of the yellow seats from Tiger Stadium at Louisiana State University mixed with LSU colored resin.
Pen Blanks are a minimum of 3/4" x 3/4" 
Bottle Stopper and Ring blanks are 1-1/2" round
Full blocks are 6" x 5.25" and a minimum of 3/4" thick
Knife Scales are 1-3/8" x 5" x 3/8" minimum

All blanks will come with one COA per blank. COAs are 4" x 6" card stock with foil embossed COA seal. Blocks come with 10 COAs.
All blanks are cut as they are ordered.
---
Tiger Stadium, popularly known as Death Valley, is an outdoor stadium located in Baton Rouge, Louisiana on the campus of Louisiana State University. It is the home stadium of the LSU Tigers football team. Prior to 1924, LSU played its home games at State Field, which was located on the old LSU campus in Downtown Baton Rouge.

Tiger Stadium opened with a capacity of 12,000 in 1924. Renovations and expansions have brought the stadium's current capacity to 102,321, making it the third largest stadium in the Southeastern Conference (SEC), fifth largest stadium in the NCAA and the sixth largest stadium in the world.
Great pen blanks!
The LSU blanks as well as the other stadium blanks are outstanding. People love a unique ink pen made with these blanks, and I love making them!
Love this blank!
I purchased the LSU blank and it looks amazing. It turned nice and made a beautiful pen that sold immediately.
Awesome
These blanks are awesome!! They turn smooth and easy. Look amazing when they are complete.
---
We Also Recommend