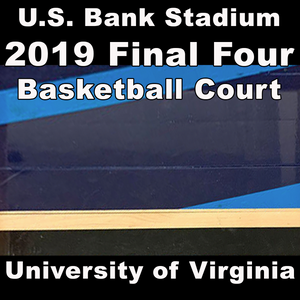 U.S. Bank Stadium (2019 Final Four) University of Virginia
Wooden basketball court flooring pen blanks!
Pen Blanks are a close 3/4" x 3/4"
Ring blanks are 1-1/2" x 1-1/2"
All blanks will come with one COA per blank. COAs are 4" x 6" card stock with silver foil embossed COA seal.
All blanks are cut as they are ordered.
___________________________________________________________________________
Virginia won the national championship in the championship game of the 2019 Final Four by defeating Texas Tech 85-77.
The 2019 NCAA Division I men's basketball tournament was a single-elimination tournament of 68 teams to determine the National Collegiate Athletic Association (NCAA) Division I men's college basketball national champion for the 2018–19 season. The 81st annual edition of the tournament began on March 19, 2019, and concluded with the championship game on April 8 at U.S. Bank Stadium in Minneapolis, Minnesota, between the Texas Tech Red Raiders and the Virginia Cavaliers, with Virginia winning 85–77 in overtime.
U.S. Bank Stadium is an enclosed stadium located in downtown Minneapolis, Minnesota. Built on the former site of the Hubert H. Humphrey Metrodome, the indoor stadium opened in 2016 and is the home of the Minnesota Vikings of the National Football League (NFL); it also hosts early season college baseball games of the University of Minnesota Golden Gophers.
---
We Also Recommend