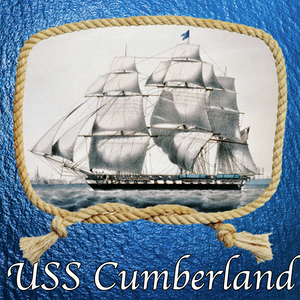 USS Cumberland (1842)
Sierra Clone (27/64") Embedded
Nautical 3/8" Tube Embedded
Custom Single Tube Embedded
These single blank tubes are a custom label cast image of the USS Cumberland. The ends of the blank sections are a short piece of wood salvaged from the Cumberland
.
The first USS Cumberland was a 50-gun sailing frigate of the United States Navy.[1] She was the first ship sunk by the ironclad CSS Virginia.

Cumberland began in the pages of a Congressional Act. Congress passed in 1816 "An act for the gradual increase of the Navy of the United States." The act called for the U.S. to build several ships-of-the-line and several new frigates, of which Cumberland was to be one. Money issues, however, prevented Cumberland from being finished in a timely manner. It was not until Secretary of the Navy Abel Parker Upshur came to office that the ship was finished. A war scare with Britain led Upshur to order the completion of several wooden sailing ships and for the construction of new steam powered ships.

Designed by famed American designer William Doughty, Cumberland was one a series of frigates in a class called the Raritan-class. The design borrowed heavily from older American frigate designs such as Constitution and Chesapeake. Specifically, Doughty liked the idea of giving a frigate more guns than European designs called for. As a result, he called for Cumberland and her sister ships to have a fully armed spar deck, along with guns on the gun deck. The result was a heavily armed, 50-gun warship.
USS Cumberland (1842)

Laid Down:

1824

Class:

USS Cumberland-Frigate Class

Launched:

May 24, 1842

Tonnage:




1726 tons

Commissioned:

November 9, 1842

Length

:

175 ft

Fate:




Sunk March 8, 1842

Beam:

45 ft

Crew:

335 officers and enlisted

Draft:

21.1 ft

---
We Also Recommend