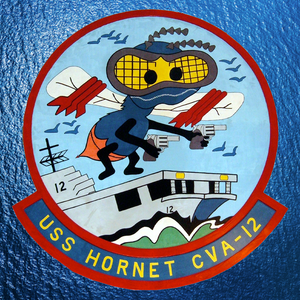 USS Hornet (CV-12)
US Navy Ship Wood
Embedded object Blanks
27/64" blanks are for Sierra Clones
All blanks will come with one COA per blank. COAs are 4" x 6" card stock with silver foil embossed COA seal.
All blanks are cut as they are ordered.
------------------------------------------------------------
USS Hornet (CV/CVA/CVS-12) is an Essex-class aircraft carrier built for the United States Navy (USN) during World War II. Completed in late 1943, the ship was assigned to the Fast Carrier Task Force (variously designated as Task Force 38 or 58) in the Pacific Ocean, the navy's primary offensive force during the Pacific War. In early 1944, she participated in attacks on Japanese installations in New Guinea, Palau and Truk among others. Hornet then took part in the Mariana and Palau Islands campaign and most of the subsidiary operations, most notably the Battle of the Philippine Sea in June that was nicknamed the "Great Marianas Turkey Shoot" for the disproportionate losses inflicted upon the Japanese. The ship then participated in the Philippines Campaign in late 1944, and the Volcano and Ryukyu Islands campaign in the first half of 1945. She was badly damaged by a typhoon in June and had to return to the United States for repairs.
After the war she took part in Operation Magic Carpet, returning troops to the U.S. and was then placed in reserve in 1946. Hornet was reactivated during the Korean War of 1950-1953, but spent the rest of the war being modernized to allow her to operate jet-propelled aircraft. The ship was modernized again in the late 1950s for service as an anti-submarine carrier. She played a minor role in the Vietnam War during the 1960s and in the Apollo program, recovering the Apollo 11 and Apollo 12 astronauts as they returned from the Moon.
Hornet was decommissioned in 1970. She was eventually designated as both a National Historic Landmark and a California Historical Landmark, and she opened to the public as the USS Hornet Museum in Alameda, California, in 1998.




Name:


Hornet




Namesake:


Hornet




Ordered:


20 May 1940




Awarded:


9 September 1940




Builder:


Newport News Shipbuilding, Newport News, Virginia




Laid down:


3 August 1942




Launched:


30 August 1943




Commissioned:


29 November 1943




Decommissioned:


15 January 1947




Renamed:


From Kearsarge, October 1942




Identification:


Hull number: CV-12




Recommissioned:


11 September 1953




Decommissioned:


26 June 1970




Reclassified:







CV to CVA-12, 1 October 1952


CVA to CVS-12, 27 June 1958









Struck:


25 July 1989




Status:


Museum ship at the USS Hornet Museum in Alameda, California




---
We Also Recommend