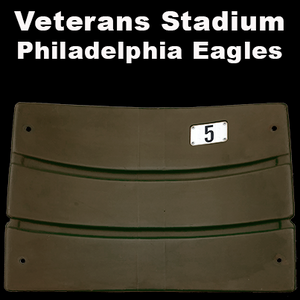 Veterans Stadium (Philadelphia Eagles)
Plastic Seat Pen Blanks!
Pen Blanks are 3/4" x 3/4"
Stopper Blanks are 1 1/2" round
All blanks will come with one COA per blank. COAs are 4" x 6" card stock with silver foil embossed COA seal.
All blanks are cut as they are ordered.
------------------------------------------------------------
Hardin Penworks, LLC, certifies that material supplied to the artisan of the accompanying hand-crafted item was sourced from the plastic stadium seats of Veterans Stadium.
Veterans Stadium, commonly known as the Vet, was a multi-purpose stadium located at the northeast corner of Broad Street and Pattison Avenue, as part of the South Philadelphia Sports Complex.
The Vet hosted the MLB Philadelphia Phillies and the NFL Philadelphia Eagles from 1971 to 2003. The Vet also hosted the annual Army-Navy game 17 times between 1980 and 2001. It was demolished 2004 after being replaced by the Citizens Bank Park and Lincoln Financial Field.
This material is guaranteed to be 100% Authentic.
---
We Also Recommend