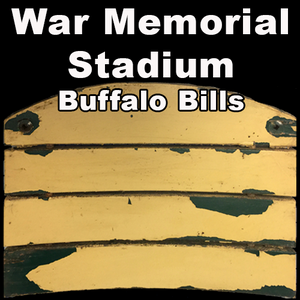 War Memorial Stadium (Buffalo Bills)
Wooden seat pen blanks!
Blanks are 3/4" x 3/4"
Stopper Blanks are 1 1/2" round
All blanks will come with one COA per blank. COAs are 4" x 6" card stock with silver foil embossed COA seal.
All blanks are cut as they are ordered.
------------------------------------------------------------
War Memorial Stadium (nicknamed The Rockpile) was an outdoor stadium in the northeast United States in Buffalo, New York. It hosted Minor League Baseball and professional football teams, most notably the Buffalo Bills of the American Football League (AFL), and later National Football League (NFL).
The stadium was on a rectangular block near the downtown area and its baseball diamond had an unorthodox southeast alignment (home plate to center field).[2] The main entrance was in the left field corner at Jefferson Avenue to the east and Best Street to the south (behind right field). Its other boundaries were Dodge Street to the north (behind third base) and Masten Park to the west (behind first base) with Masten Avenue farther west. The east-west alignment of the football field was also unorthodox, running along the third base line. The elevation at street level is approximately 650 feet (200 m) above sea level.
War Memorial Stadium was built as a WPA project in 1937. It was originally named Roesch Memorial Stadium, though the name was changed to Grover Cleveland Stadium later in 1937 (honoring the former President and Buffalo public official) and then to Civic Stadium in 1938. The name was changed to War Memorial Stadium in 1960.[3]
The stadium originally sat 35,000, but expansions raised the capacity to over 46,500. Despite this, by the time of the AFL-NFL merger in 1970, it was one of the league's smallest stadiums (below the league's new 50,000-seat minimum). After considering[4] and rejecting a move to Seattle, the Bills left after the 1972 season for Rich Stadium (now New Era Field) in suburban Orchard Park, which had a capacity of over 80,000 in 1973.
Awesome
Awesome that you still have pieces of the seats from the rock pile, been gone since 1989. Wish I could get a whole seat but this is just as good. Would buy from again. Thank you
---
We Also Recommend