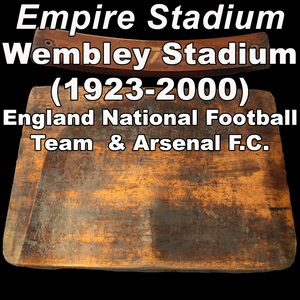 Wembley Stadium [1923] (England national football team & Arsenal F.C.)
Wooden seat pen blanks!

Pen Blanks are 3/4" x 3/4"
All blanks will come with one COA per blank. COAs are 4" x 6" card stock with silver foil embossed COA seal.
All blanks are cut as they are ordered.
_________________________________________________________________________________
Hardin Penworks, LLC, certifies that material supplied to the artisan of the accompanying hand-crafted item was sourced from the original wooden seating of old Wembley Stadium.
The original Wembley Stadium was a stadium in Wembley Park, London, best known for hosting important football matches. It stood on the same site now occupied by its successor.
Wembley hosted the FA Cup final annually, the first in 1923, the League Cup final annually, five European Cup finals, the 1966 World Cup Final, and the final of Euro 96. Brazilian footballer Pelé once said of the stadium: "Wembley is the cathedral of football. It is the capital of football and it is the heart of football", in recognition of its status as the world's best-known football stadium. The stadium also hosted many other sports events, including the 1948 Summer Olympics, rugby league's Challenge Cup final, and the 1992 and 1995 Rugby League World Cup Finals. It was also the venue for numerous music events, including the 1985 Live Aid charity concert.
This material is guaranteed to be 100% Authentic.
---
We Also Recommend