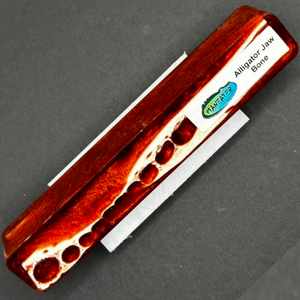 Maneater Alligator Jawbone Blanks - Copper Desert
Maneater Alligator Jawbone blanks use JB Royal Original resin combined it with a real jawbone of an alligator to create this eye popping pen blank. The jawbones are meticulously shaped to fit pen blank sized slots of our Dinobone Casting molds. Using a JBR resin colored mixture poured over the jawbone and held under extreme pressure, we cast each jawbone into the works of art you see here. By using JB Royal resin verses a polyester resin, it offers a more stable platform when interacting with the stabilized alligator jaw bone.
The small Alligator pen blank measures 13/16" x 13/16" x 5" suitable for the larger pens.
Use caution when turning these blanks as the bone and resin mixture will show two densities of material when the chisel is applied. To apply a finish to these blanks, wet sand to 800 grit or higher, followed by your favorite finishing method for your desired gloss finish. CA may be needed for any pin holes that may appear in the bone material.  We recommend following your wet sanding with Stadium Pen Blanks Magic Juice Polishing Compound for a spectacular shine!  
---
We Also Recommend