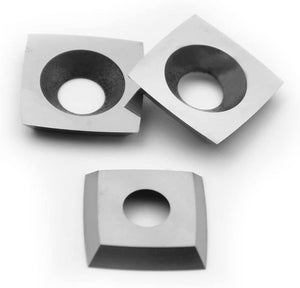 Square Carbide Cutters, 2" Radius Square Carbide Cutter, 3-pack [15R2]
Replacement 15mm 2" Radius Square Carbide Cutter 3-Pack
Our 3-pack of 15R2 cutters provide excellent results when turning wood, resin, bone, antler, and soft nonferrous metals. To maximize use, each side can be rotated when it becomes dull; once all sides have been used, the cutter can be replaced.
These cutters work with the T. Shadow turning tools:
Short Scrapers

Long Scrapers 
Our 15mm 2" Radius Square Carbide Cutters can be used with many other compatible carbide cutting tools.
Features:
Suitable for use with all T. Shadow Carbide Turning tools
Optimum grade of carbide for the longest lasting sharp cutting edge
Solid carbide for a long life
Factory sharpened and ready for use right out of the box